Madame, Monsieur,
Conformément aux mesures mise en place par le gouvernement nous avons fermé les portes de notre société Quick Source.
La santé et la sécurité de nos clients, comme celles de nos collaborateurs, sont pour nous des priorités absolues et nous mettrons en oeuvre pour lutter collectivement contre la propagation du Coronavirus.
En attendent de pouvoir prochainement vous accueillir dans notre société, nous vous invitons à nous contacter à l'adresse:
info@quicksource.fr
pour toutes demandes d'informations.
Merci pour votre compréhension.
Quick Source your partner for Information Technology projects
Quick Source assists its clients in all phases of the design and life cycle of their projects, providing them with recognized expertise in sectors such as health, mutuality, defence, optics and logistics.
Quick Source is comprised of 3 major poles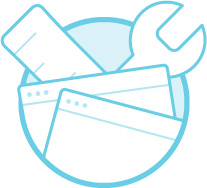 Web Development / CMS / Responsive Web Design / Marketing / Search Engine Optimisation (SEO) Development in Java EE, Net and PHP / Application design for the health sector / Project management
Quick Source offers technical solutions
Consulting and IT services for large companies and SMEs
Development in .NET, J2EE et PHP